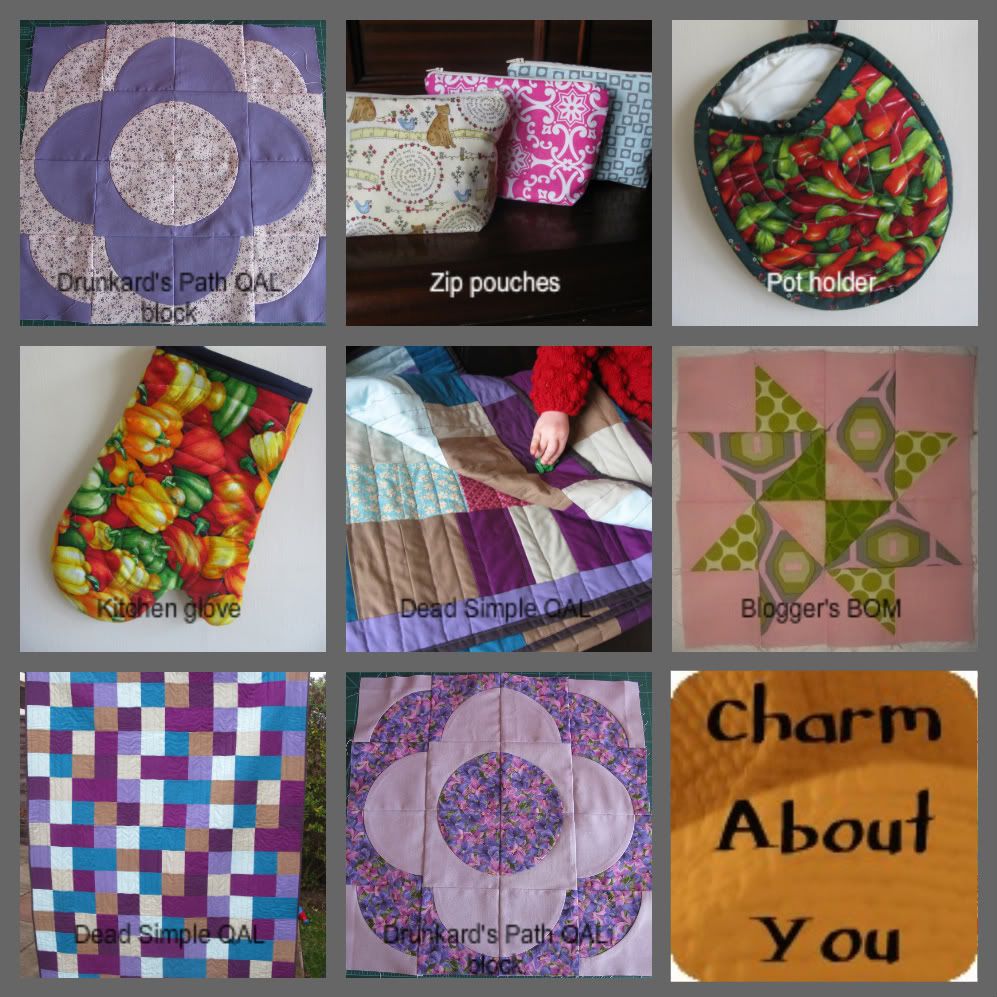 Can you believe it's December?! How exciting! Here's a mosaic of my November makes that I'm linking up to Lynne's Fresh Sewing Day at
Lily's Quilts
, hop over and join in.
**Warning** I've got quite a bit to show you so this may be another long one but I'll keep it as short as I can ;)
Firstly I received some lovely post last week:
These are the goodies I got sent from Korbond as a giveaway on
The Sewing Directory
. I have to say I'm thrilled with everything I've used so far, those scissors are particularly fantastic! I know it will all be very useful and it arrived so quickly. These products are available at my local Tesco so I'm sure you can get hold of them easily.
Then I got the MOST AMAZING package from the wonderful
Madame Samm
that I won on her slightly bonkers and extraordinary Wantobe Quilters giveaway. She truly is spectacular and if you haven't checked out her blog (and I can't believe you haven't!), you should! She was more than generous and I'm still grinning as I plot what I will make:
Then there was one more package. I took part in a rainbow colour charm swap with the lovely Robyn at
Bolo Heads
. She had a hard time of it with wrong addresses, drop outs etc but she did great :) and I'm delighted with my charms! This was my first swap and I will definitely do one again (hopefully with Robyn if she'll let me!!). It's so exciting looking through all those different fabrics and I already have 2 quilts planned with mine :)
There are some that are fugly and some that are pretty and some that I downright love:
I don't know what fabric this is but I think it's bright, retro feel is just perfect! I'm saving these until I've got all my Christmas projects done.
I'm getting there with my Drunkard's Path QAL and am quilting it in concentric circles after being inspired by Heather at
Crafting...
and her
gorgeous cushion
! I've been using my bloody quilting guide thingy again but this time I've got it sussed:
No matter what I did it wriggled around so I'm using bobbins (can add or take them away depending on the width of quilting required) and a rawl plug (it's that grey thing sticking out on the left of the foot) and this time it's going nowhere. I think I'm a genius. I might get a copyright.
I'm also making progress on a quilt for my friend's son, using fabric I've shown you
before
(sorry for the sideways shot):
This came together fast thanks to chain piecing! And is now basted, ready to be quilted. Anyone got any suggestions for a name for this quilt?
Last week was my daughter's birthday, she's officially terrible 2 (I'm shaking my head in despair), my Auntie gave me these fun fabrics to make things with! I'm going for two cushions with the Hungry Caterpillar fabric (eventually!) and a great DIY advent calendar:
I adore this funny fabric holding man more than I can express
Well last night I realised it was the end of November so I stayed up and made this!
It was very easy to make and really fun! It's all filled with treats now, so the son will be happy when he gets back from school! I just hope I've hung it high enough that they can't steal them all!!
I even practiced some fmq and did some swirly loopy quilting :)
This has totally got me feeling all Christmassy!! So much so I'm going to go get the decorations out of the attic and decorate this afternoon :) Thinking of Christmas, head over to
makingrebeccalynne
for Thursday Think Tank, she has some great ideas to share!
p.s. wish me luck on that stupid attic pull out ladder, I always keep my mobile in my pocket when I go up there in case I fall. What I'll do for decorations?!