I like having a focus, one word to inspire and keep me motivated for 2016.
My word for 2014 was '
better
', I worked on my sewing skills and learned new techniques. 2015 was '
more
', becoming more me and creating more happiness - I feel like I achieved that in most things and I will continue to maintain that happy mindfulness.
There is part of me that is very traditional (quite boring actually) - I like order, routine and being at home. I'm okay with that about myself, I function better when I have a schedule and to do lists! I am very domestic (my husband just said I am like a house cat, in a nice way) but it can cause me to get anxious about going out sometimes. It helps to see friends, get coffee, watch a film, have a date night. I would like to do more of that. There is a need for me to abandon restraints I place on myself and just have fun.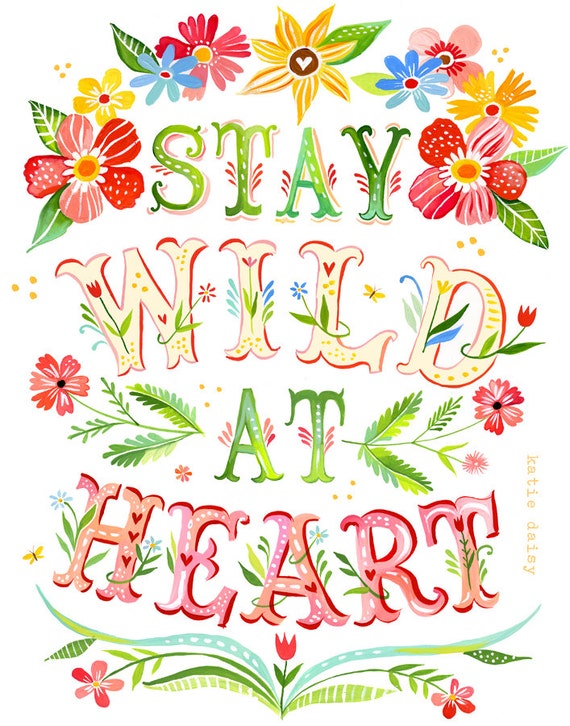 Katie Daisy
Maybe it's also small joys like stickers, dancing and using odd combinations of colours in my sewing - that is my way of cutting loose. It sounds so silly but it's the little things in life! I have so many responsibilities that just having five minutes of doing something fun and frivolous feels really good. Last night I couldn't sleep so I redesigned my blog header and thoroughly enjoyed it.
On New Year's Eve I created a vision board, laying out pictures and words on a huge piece of paper so everyday I can see my goals and work towards them. I want to aim high, taking steps to actually achieve my bigger dreams and not just dreaming about them.
I am happy being me; focused on positive things, being grateful and mindful. Though I would like to be a little bit more unexpected, perhaps even capricious, to inject more passion and energy into my life.
Every day, in everything I do, I want to do it with enthusiasm, so that is my word for 2016.
Wishing you all a joyful year!
I am concentrating more, doing what needs to be done to feel good and productive. Sticking to a cleaning routine (following
Clean Mama's
#clutterfree30) and generally trying to make my house feel like a nicer place to be. I think I am naturally optimistic but I do have to work hard at being positive and a clean, organised space really does make me feel so much better. Thankfulness is also something I am mindful of everyday and I decided I would like to have some inspiration to keep next to my bed.
I live in a 1930s house and I like mixing up vintage and modern things when I can. So when I saw this
free Thanksgiving printable
with a sweet nest I decided to frame it and put it on the bedside table, after all that's a nice way to be all year round! I already had this
Acrylic Photo Frame
(I've had mine for at least 8/9 years I think, but they still sell them at Muji! I LOVE that shop) and I like how it looks. Pretty and simple.
- About to start reading these two books my lovely husband got me for Christmas, I had been hankering after
The Woman I Wanted to Be
and he was obviously paying attention :)
It was a friend's birthday last week so I made a card using some washi tape (saw the idea somewhere but can't remember where!):
It's fun making easy cards like this and good to have them to hand. Not that I go to many parties but the kids seem to have at least one to go to every weekend!
I have a habit of being overly ambitious (not necessarily a bad thing) but with family, part-time work and general life stuff, I can't always do as much sewing as I would like! My FAL lists last year were unrealistic and I didn't even manage to link up with the last quarter, even though I think I did manage to finish a couple of things. So new year and a way
more
focused approach to everything. Listing all the things I'm working on tends to stress me out and there's no point listing three quilts I haven't even got basted and will probably be hand quilting because that's utter craziness (hopefully I can list them when it's time to quilt them and have a chance of getting them done)!
Here is my simple list of what I would like to get done this quarter:
1. Baby quilt commission
2. Vintage Quilt commission - I didn't make it but I'm hand quilting it, which is a big job!
3. Le Challenge project - this has to be finished by 14th February. I'm excited to get started as I've never used fabric paint before (or not since I was a girl). I got this
cream jersey fabric
and the gold
Dylon fabric paint
from
Minerva Crafts
. This is going to be fun!
Nat
and I just announced the new theme over at the
le challenge blog
- so please head over there and follow us. We have a giveaway every month for one person that links up and this month's theme is easy peasy!
Linking up to the 2015 FAL: